Hardwood Floor Installation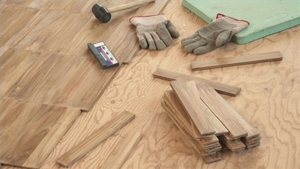 We are experts when it comes to installing hardwood flooring. We are not a big box store and take pride in the quality of our products, the quality of the installation, and the affordability of our services.Nothing can create an atmosphere of warmth,beauty and totally transform your home or business like a wood floor.Hardwood floors are the only timeless flooring solution and will far outlast any other flooring.                                                                                                                   Wide plank floors are becoming more popular in 3" 4" and 5" widths available in red oak,walnut, hickory, pine, white oak and cherry.
We come to you and will share our expertise in helping you select the perfect product for your home or business. From start to finish, we will work with you to ensure that your new floor will bring beauty and pride for many years to come.We can also replace your old trims and moldings and custom wood vents for that fresh new look.
We also install engineered, parquet,and laminate flooring, in floating or glue down systems.Wood plank vinyl flooring is also available for commercial business applications.
Give our experts a call at 630-307-6283 or complete our online form and someone will contact you shortly.